Die langfristigen Zinsen in der Schweiz sind ebenfalls negativ!
In der Vergangenheit ist man davon ausgegangen, dass die Negativzinsen in der Schweiz eine kurzfristige Erscheinung von ein paar Monaten eventuell ein paar wenigen Jahren sind. Nun sind aber seit kurzem auch die sehr langfristigen CHF-Zinsen im negativen Bereich (siehe Grafik).
Der nachfolgende Internet-Artikel von Adam Heyes, Investopedia (Homepage), geht etwas näher auf diese neue Situation und die damit erwarteten Folgen ein.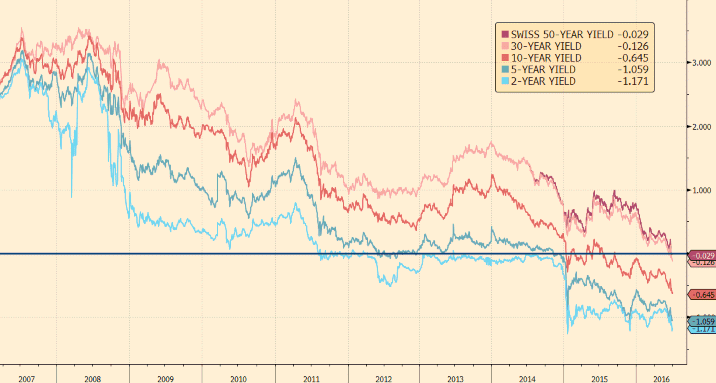 Swiss 50-Year Rates Turn Negative
By Adam Hayes, CFA | Updated July 5, 2016 — 2:00 PM EDT
The amount of sovereign debt with negative yields has ballooned to more than ten trillion dollars in notional value, with central banks in Europe and Japan implementing explicit negative interest-rate policies (NIRP). While negative interest rates have become a reality in the past year or so, they have largely been associated with relatively short-term debts: maturities of a few months or a few years. Now, Swiss long-term debt is trading with negative implied interest rates - an historically low rate.
Switzerland A Haven for Foreign Capital
Brexit and fears of Eurozone stagnation have caused investors to pump foreign capital into safe havens such as Switzerland. The small country has devalued its currency, the Swiss Franc, and has implemented negative rates to deter foreign money from pouring in - to little effect. Interest rates on Swiss 50-year government bonds have now been pushed down intonegative territory, yielding negative 0.029%. This makes every maturity on traded Swiss government debt hold a negative interest rate, also a record. (See also: How Banks Set Interest Rates on Your Loan.)
Uncertainty in the economy, sparked by Brexit and fears of Chinese stagnation are causing a flight to safety, and Swiss bonds are perceived as a good place to park cash, even if they cost investors money to keep that money there. This also implies that the Swiss government can be paid to borrow, even for very long periods of time. (See also: How Interest Rates Affect U.S. Markets.)
On the downside, this term structure could imply that future economic growth as well as inflation, are expected to remain subdued for many decades to come. "It's a reflection on a very bad prospects for the European and global economy," remarked senior rates strategist at Societe Generale in Paris, Ciaran O'Hagan. He continued, "bond yields are driven by inflation and growth, but there's no inflation and there's no growth. The economy is built on confidence, and if there's no confidence there's no economy."
The Bottom Line
With global economic uncertainty reaching new highs following Brexit, Swiss government bond yields have turned negative out to maturities of 50 years, a historic low for such long-term sovereign debt. Massive inflows of foreign capital in a flight to safety are depressing yields on bonds, even as investors stand to lose as they pay negative interest payments. This could suggest that confidence about global economic growth and inflation are to remain subdued for years to come.
Read more: Swiss 50-Year Rates Turn Negative | Investopedia http://www.investopedia.com/articles/markets/070516/swiss-50year-rates-turn-negative.asp#ixzz4JHri6dG1 
Follow us: Investopedia on Facebook
---
Dominique Ackermann
Inhaber und Berater HypoConsult+
---
---
---